Enterprise Solutions
Structured Cabling Solutions
ADC's Structured Cabling System is an end-to-end, integrated portfolio of high-performance copper and fibre cable, connectivity and cable management solutions produced by a single global manufacturer for applications from the Data centre to the desktop.
Data Centre Solutions
Your Data centre is the most critical resource within your organization. Many organizations simply shut down when employees and customers are unable to access the servers, storage systems, and networking devices that reside there.
The most sophisticated Data centres seek Tier IV reliability of 99.995% network availability (Uptime Institute). Still, all of the redundancy and advanced power and cooling measures available are worth nothing if the cable, connectivity and cable management systems are inferior and lead to network downtime.
Place you mouse over the text to see products and then click to download product catalogue.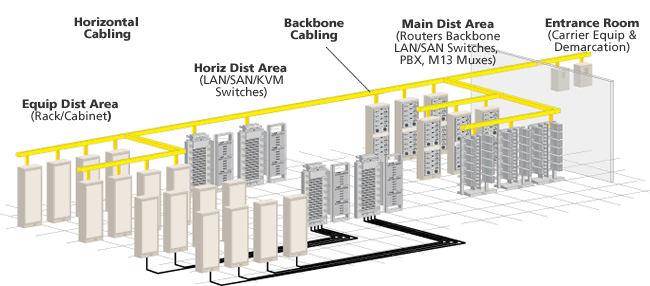 Fibre Plug-and-Play Solutions
In the backbone or to the desk, optical networks achieve peak performance with ADC's fibre connectors, patch cords, raceways, and panels featuring integrated cable management and bend radius protection.
Proper cable management practices make fibre networks less susceptible to accidental damage, quicker to install, less expensive to own and operate over the long haul and easier to expand as needs grow. To ensure optimal network performance, ADC's fibre solutions incorporate key cable management concepts: Bend radius protection | Adequate cable troughing with clear routing paths| Easy accessibility to installed Fibres | Vertical cable protection.
LAN Solutions
ADC's brand of structured cabling products and solutions provides a multitude of Cable, Connectivity and Cable Management solutions from the Data centre to the desktop. In addition, all structured cabling solutions are supported by the best warranty in the business:
20-year performance and applications warranty
Industry's only Zero Bit-Error Warranty guarantees signal integrity and throughput for five years, twenty years on our 10G Augmented Category 6 Solutions.