Carrier Network Solutions
Next Generation Networks
New networks require a new way of thinking. As a global communications network infrastructure provider for decades, ADC offers end-to-end network infrastructure solutions for central office (CO), Data centre, outside plant (OSP) and wireless deployments. - Designed to deploy reliable high-speed Broadband, Data, Video and Voice communications to Residential, Business, Broadcast and Mobile markets.
Central Office Solutions
As optical fibre moves closer to customers, rapid changes are underway in both the central office (CO) and the outside plant (OSP) environment. There are more optical fibre terminations and new electronics to manage in the CO or headend, and additional active electronics are being deployed deeper into the network. As new electronics are added to support high-speed voice, data and video services, ADC's intelligent infrastructure is essential to future-proof your Central Office.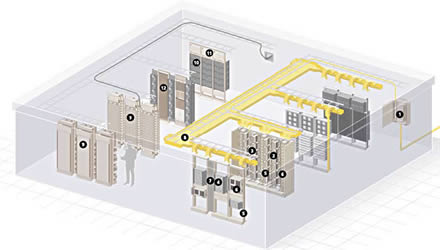 Central Office and Head End - click image to zoom.
FTTX and OSP Solutions
The race is on to deploy broadband networks that offer enhanced services and generate new revenue, resulting in significant changes in the outside plant segment of the network. New fibre-to-the-x technologies require a new approach to the outside plant. There is greater need for physical layer access and the network must be designed for future expansion and upgrades. Successful FTTX deployment requires a new approach, a new understanding.
ADC offers a complete, end-to-end network infrastructure solution for FTTX networks. From the CO to the customer premises, regional carriers, independent operators, municipalities, Multiple System Operators (MSOs), utilities, and developers worldwide have tapped the experience and innovation of ADC to build their FTTX networks.
Data Connectivity Solutions
ADC cabling system provides uninterrupted data throughput across the network. It supports advanced applications such as 10GigE, Copper & fibre, VOIP, and WiFi.